QUESTION 111
Your network contains a RADIUS server named Server1.
You install a new server named Server2 that runs Windows Server 2012 R2 and has Network Policy Server (NPS) installed.
You need to ensure that all accounting requests for Server2 are forwarded to Server1. On Server2, you create a new remote RADIUS server group named Group1 that contains Server1.
What should you configure next on Server2?
To answer, select the appropriate node in the answer area.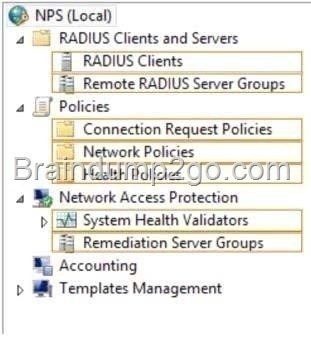 Answer: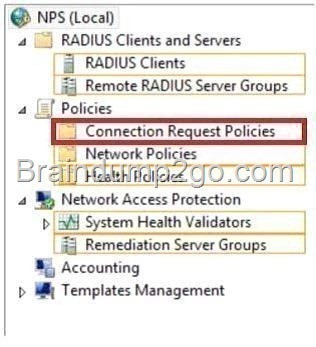 Explanation:
Connection request policies are sets of conditions and settings that allow network administrators to designate which Remote Authentication Dial-In User Service (RADIUS) servers perform the authentication and authorization of connection requests that the server running Network Policy Server (NPS) receives from RADIUS clients. Connection request policies can be configured to designate which RADIUS servers are used for RADIUS accounting. http://technet.microsoft.com/en-us/library/cc753603.aspx