January/2022 Latest Braindump2go MB-320 Exam Dumps with PDF and VCE Free Updated Today! Following are some new MB-320 Real Exam Questions!
QUESTION 152
Hotspot Question
A company sells chemicals that require special instructions for disposal and remediation due to toxicity regulatory requirements.
The company requires that when a sales order's packing slip is printed for a product that contains a toxic chemical, the instructions must also be printed for inclusion in the shipment.
You need to configure the system to meet the requirements.
Which configurations should you use? To answer, select the appropriate options in the answer area.
NOTE: Each correct selection is worth one point.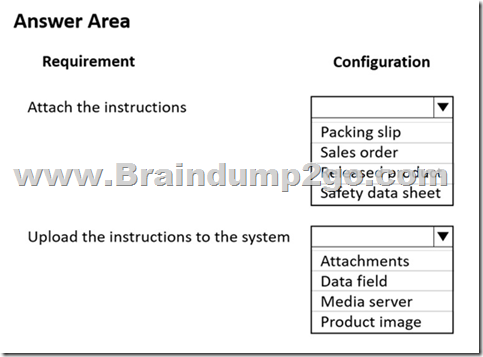 Answer:


Explanation:
https://docs.microsoft.com/en-us/dynamics365/supply-chain/pim/hazmat-items